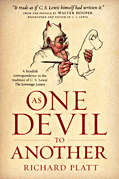 In the tradition of C.S. Lewis'
The Screwtape Letters
, Richard Platt's
As One Devil to Another
is a series of letters between devils, Slashreap and Scardagger. Though a work of fiction, it is a chilling glimpse into the tricks and trades used by Hell to lead Man astray.
I cannot begin to tell you how much I enjoyed this book. Certainly, it will be added to my list of books that will be read over and over again. I was continually amazed at the variety of methods the demons used to attempt to lead "The Client" down the wrong path. From life changing events, such as career choice and death and illness, to seemingly mundane decisions, like where to have lunch on a particular day, the tempter was with the client trying to distract her from the path God had set before her. Thankfully, God (referred to by the tempters as The Adversary) was also with the client and had His own plan for her life and people He used to help her make the right choices. I found the ending quite amusing, but I won't reveal any more about it than that. For a fiction novel, I found it especially convicting. The thought that I may have my own personal tempter hanging around urging me down dangerous paths and towards misguided decisions, was actually very eye-opening.
It is difficult for me to go on about this book without giving away too much, but I loved looking at God's plan for Man through the enemy's eyes. Suffice to say, this was a wonderful story full of illuminating ideas about the world in which we live. It was as if C.S. Lewis, himself, were given a glimpse of the 21st Century, and wrote a fresh, new version of
The Screwtape Letters
for us to relish all over again.
The wonderful people at Tyndale have generously given me an extra copy of
As One Devil to Another
to give away to one of you readers. I am going to make this giveaway fun and easy. The author came up with very clever monikers for the demons in the book, such as Slashreap, Scardagger, Snitchweed, and Gritslime. Your mission, should you choose to accept it, is to come up with another clever name for a tempter. If, in fact, we all do have a tempter assigned to us, what do you think yours would be called? Leave a comment with your tempter's name as well as a way for me to contact you if you are chosen as the winner. Winner will be chosen by Random.org and will be announced on June 1, 2012.
Thanks for reading,
Darby
Here's the legal stuff I'm required to post:
Disclosure of Material Connection: I received a complimentary copy of this book from Tyndale House Publishers
. I was not required to write a positive review. The opinions I have expressed are my own. I am disclosing this in accordance with the Federal Trade Commission's 16 CFR, Part 255 <
http://www.access.gpo.gov/nara/cfr/waisidx_03/16cfr255_03.html
> : "Guides Concerning the Use of Endorsements and Testimonials in Advertising."