Pop Quiz! Do you know who this man is:
No? Well his name is Phil Vischer, and about twenty years ago he created a little animated series called
VeggieTales.
Ring any bells? I thought so. I can't think of a single person I know who doesn't like
VeggieTales.
The guy is talented, no doubt. So, when I got the opportunity to preview a video from his latest series,
What's in the Bible,
I jumped at the chance. This is the video I received: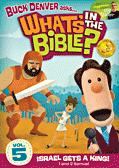 My kids loved it. Loved. It. The puppets and popsicle stick theater are reminiscent of my Sunday school days in the 80s, so I loved it, too! It tells the stories straight from the Bible and tells them in a way my 5-year-old could easily understand. Okay, okay, it told them in a way that I could understand, too. Yep, I admit, I did actually learn a few things from this. Now this is volume 5. There are four episodes prior to this one we have not yet seen, beginning with Genesis (of course). Let me emphasize YET, because this is something I want my kids to see. And, I want to see them, too. This volume includes the books of 1 & 2 Samuel. Now, as we all know, the Bible does not end at the conclusion of 2 Samuel, so it's a bit of a cliffhanger ending. This is totally tragic according to my son; he wants to know what happens next. I am over the moon about the fact that he is dying to know what happens next in the Bible!! My son's other concern is that we will have to send this movie back (he's used to NetFlix), so he was super excited to hear that this copy is ours to keep. Yes, this means I will not be doing a giveaway for our copy of
What's in the Bible.
BUT, the amazing people at Tyndale have sent me a certificate for a FREE copy of this fabulous DVD, and it could be yours!
All you have to so is leave a comment on this post and be sure to include your email address.
I will notify the winner on May 25, 2011. This is a terrific resource for any home or church (and it's entertaining, too). I hope you will enjoy it as much as my children and I have.
If you would like to know more about this series, please visit
http://www.whatsinthebible.com/
or
http://www.tyndale.com/
.
Giveaway open to US residents 18+. Winner will be selected via Random.org and will be notified by e-mail. MAKE SURE YOUR E-MAIL ADDRESS IS VISIBLE IN YOUR COMMENT. Winner has 24 hours to respond or an alternate winner will be selected.